08 Feb 2023
A PROPOS DE LA COP27 ET DU FUTUR DE L'ACCORD DE PARIS
Un tour d'horizon de nos travaux sur la modélisation technico-économique des impacts du changement climatique est disponible sur ce site.
21 Jan 2023
Publication
Dans Operations Research Letters.
F. Babonneau, A. Haurie, M. Vielle, Reaching Paris Agreement goal through carbon dioxide removal development: A compact OR model.Operations Research Letters, https://doi.org/10.1016/j.orl.2022.11.0 02
Dans cette récente publication nous avons proposé un modèle de croissance économique à long terme pour trois régions du monde formant des coalitions lors des négociations climatiques: l'OCDE, les pays émergents BRIC et le reste du monde en développement ROW.
03 Nov 2022
Atelier sur les jeux dynamiques et applications
27-28 octobre 2022
Alain Haurie était conférencier invité à cet atelier. Sa présentation étaint intitulée
Variations on an oil and gas game model in a geostrategic climate policy context
Lien pour télécharger la présentation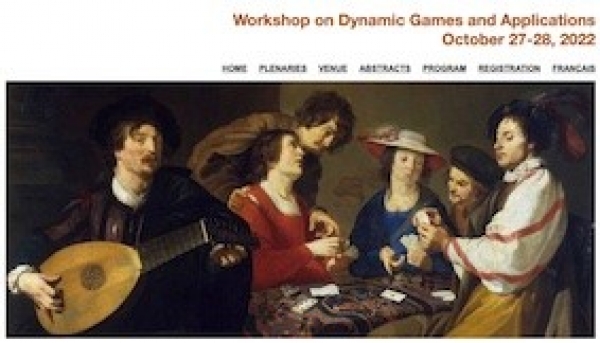 01 Oct 2022
Publication
Dans Energy Policy
F. Babonneau, M. Benlahrech and A. Haurie. Transition to Zero-net Emissions for Qatar: The role of Hydrogen and Direct Air Capture, Energy Policy, 170, 113256, 2022. https://doi.org/10.1016/j.enpol.2022.113256
A bottom-up technology rich model ETEM-Qatar is used to assess different scenarios for a transition to zero- net emissions in Qatar. The key technologies involved in the transition include electric mobility, hydrogen, carbon capture and storage and direct air capture. Through numerical simulations it is shown that Qatar could (i) start immediately to foster hybrid and electric cars for mobility, (ii) develop electricity generation from solar sources, (iii) develop carbon-free hydrogen production, (iv) introduce carbon capture and storage in all industrial sectors and, (v) develop actively direct air capture with carbon capture and storage to produce emission permits to be sold on an international carbon market. In the long-term, carbon-free hydrogen exports and emission permit sales could contribute to compensate the gas exports revenue losses that are expected in a global zero-net emissions context
02 May 2022
Publication
Dans Energies
S. Aliakbarisani, F. Babonneau, O. Bahn, E. Delage and A. Mashat. Energy Transition Pathways for Deep Decarbonization of the Greater Montreal Region: An Energy Optimization Framework, Energies, 15(10):3760 2022. https://doi.org/10.3390/en15103760

More than half of the world's population live in cities, and by 2050, it is expected that this proportion will reach almost 68%. These densely populated cities consume more than 75% of the world's primary energy and are responsible for the emission of around 70% of anthropogenic carbon. Providing sustainable energy for the growing demand in cities requires multifaceted planning approach. In this study, we modeled the energy system of the Greater Montreal region to evaluate the impact of different environmental mitigation policies on the energy system of this region over a long-term period (2020–2050). In doing so, we have used the open-source optimization-based model called the Energy–Technology–Environment Model (ETEM). The ETEM is a long-term bottom–up energy model that provides insight into the best options for cities to procure energy, and satisfies useful demands while reducing carbon dioxide (CO2) emissions. Results show that, under a deep decarbonization scenario, the transportation, commercial, and residential sectors will contribute to emission reduction by 6.9, 1.6, and 1 million ton CO2-eq in 2050, respectively, compared with their 2020 levels. This is mainly achieved by (i) replacing fossil fuel cars with electric-based vehicles in private and public transportation sectors; (ii) replacing fossil fuel furnaces with electric heat pumps to satisfy heating demand in buildings; and (iii) improving the efficiency of buildings by isolating walls and roofs.